Women's Whitehall Jacket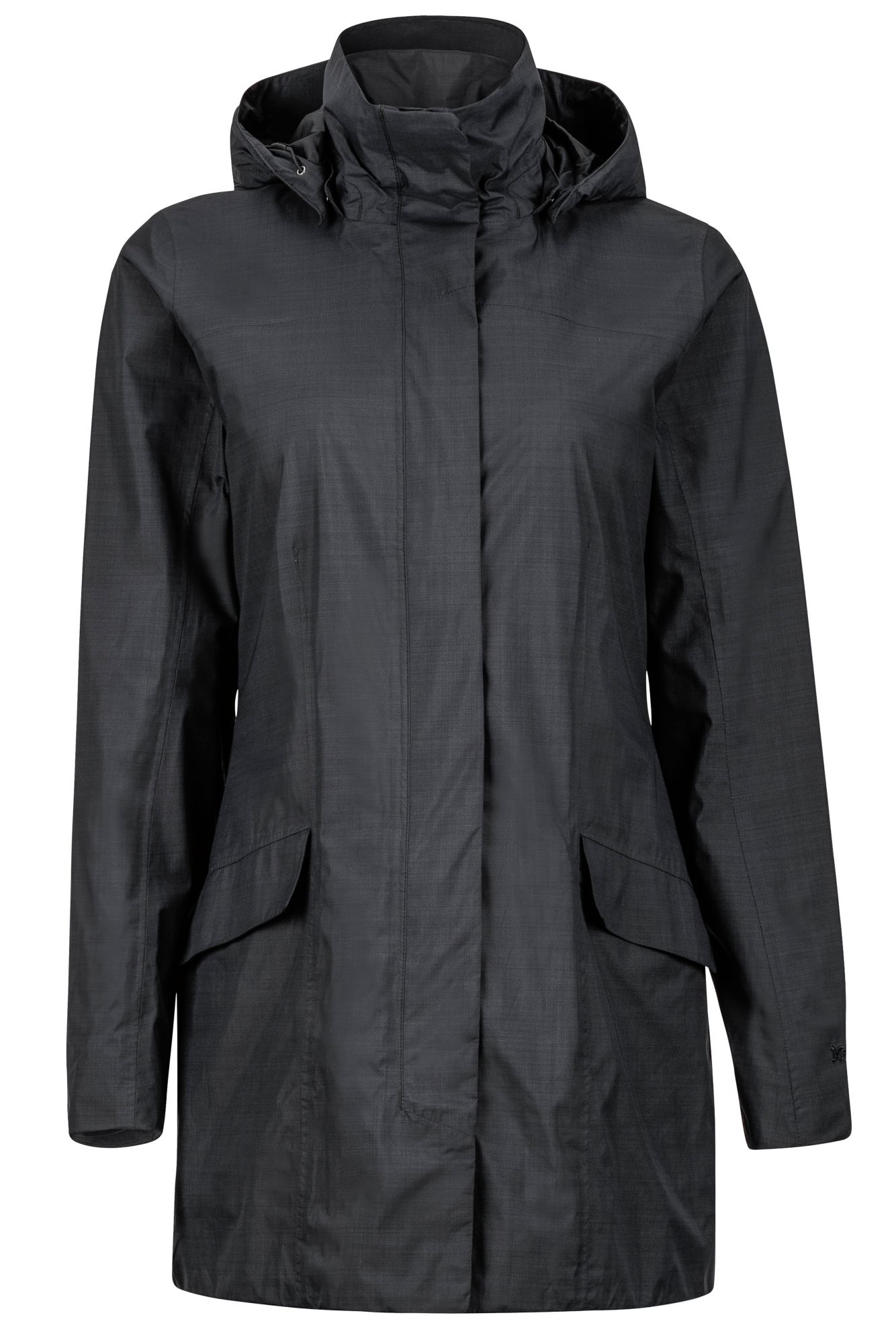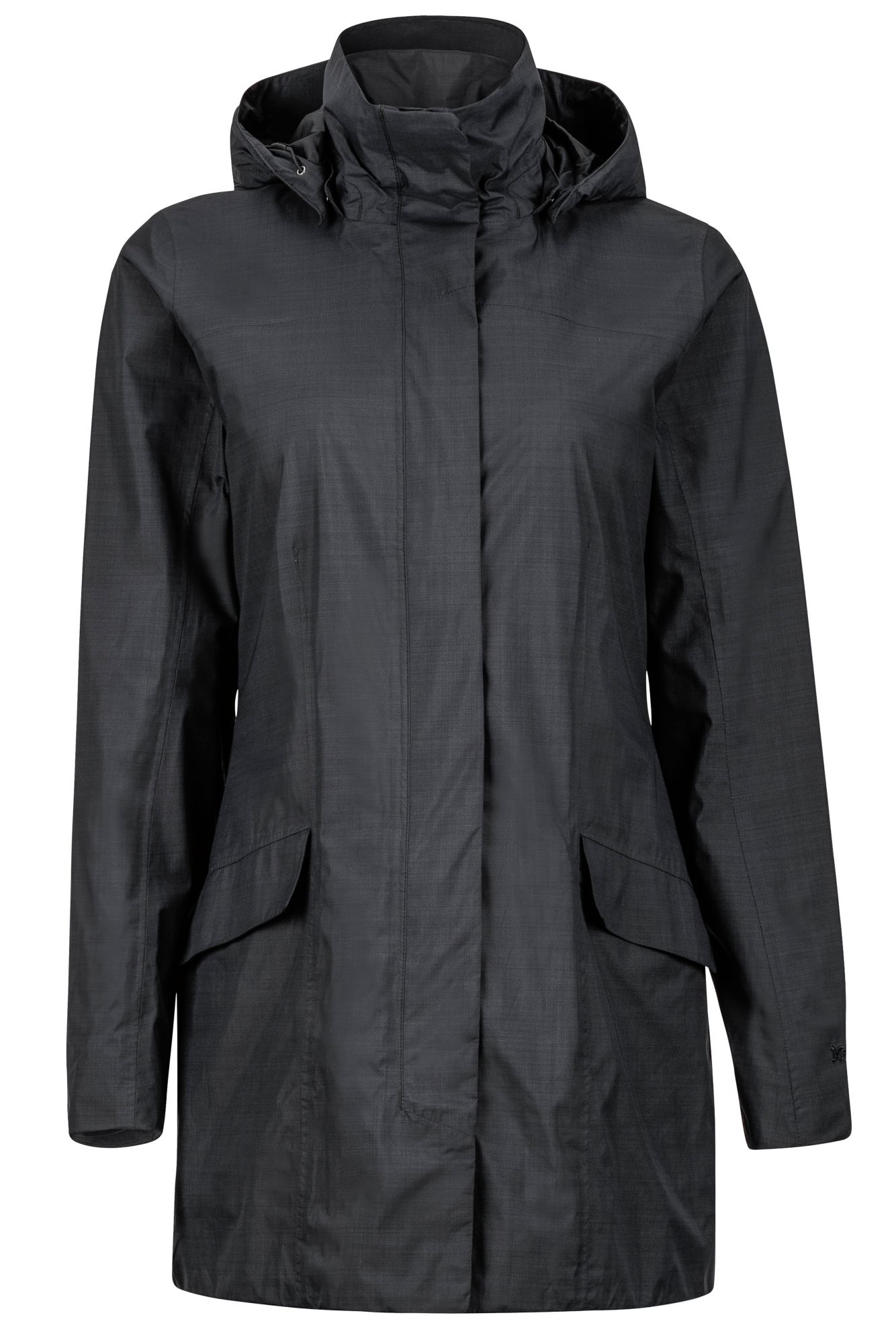 MemBrain® 100% Nylon Mélange Ripstop 2.3 oz/yd
The type of rainwear that's so stylish, you call on it at the slightest threat of rain. Just longer than mid-thigh, the WhiteHall Jacket's two-layer, seam-taped construction is both waterproof and breathable for full comfort in every condition the city throws your way. A versatile, removable hood adds options.
Features
Marmot® MemBrain® Waterproof/Breathable Fabric
100% seam taped 2-layer construction
Removable Hood
Flapped Hand Pockets
Internal Zippered Pocket
Main Materials
MemBrain® 100% Nylon Mélange Ripstop 2.3 oz/yd
Center Back Length (Base of neck to bottom of hem)
32in
Fit
Regular Fit
Weight
0lbs 14.5oz (411.1g)
Style Number
45470
Regular Fit
Athletic
Tailored shoulder
Shaped waist
Fitted hem
Semi-Fit
Relaxed shoulder
Tapered waist
Straight hem
Regular
Dropped shoulder
Straight waist
Loose hem
Women
XS
S
M
L
XL
XXL

Size

2
16
--

Chest

32-33
34-35
36-38
39-41
42-44
45-47

Sleeve

30.5
31
31.5
32.5
33.5
34.5

Waist*

24.5-25.5
26.5-27.5
28.5-30.5
31.5-34.5
34.5-36.5
37.5-38.5

Hip

35-36
37-38
39-41
42-45
45-47
48-49

Inseam**

30-31
31-32
32-32.5
32.5-33
33
33

*Trail-to-Town pants have specific waist sizes.
**Inseam lengths above are average size lengths. Some pants are available in additional inseam lengths and will display on the product page.
Rated

5

out of

5
by
Kepc
from
Wow!
I will soon be moving from dry California to a state in the southeast, where rain happens often throughout the year. I already own a long waterproof down coat, shorter down jackets and a short waterproof, unlined, breathable parka. I also wanted a long waterproof jacket that was mid thigh in length, breathable, light enough to be travel friendly, had a detachable hood and was roomy enough to accommodate at least one extra layer for warmth. I hoped for the added bonus of an inside zippered pocket for valuables or my iPhone, which I use for listening to audio books during my walks. And I wanted the coat to have some style, so that I could wear it for dressier events. I can't count the number of such coats that I have ordered and then returned to their various manufacturers. None fulfilled everything on my wishlist. Most coats simply didn't fit right, being too large overall or too tight under the arms. All were too heavy for travel purposes. One coat had snaps on the storm flap so hard to fasten that I nearly needed pliers to get the job done. Then I spotted the Marmot Whitehall Jacket and my hopes for success were renewed. I ordered the jacket on a Monday, and it arrived on Wedneday, two days later, free shipping. Now, that's service! The jacket weighs about 14oz., so light that I thought the shipping box was empty. I was thrilled to discover that the jacket fits perfectly, with room for a midweight fleece jacket underneath. The two outer pockets are protected from the rain by flaps, and are lined with soft fleece. There is an inner, roomy chest pocket that zippers shut. The sleeves are a tad long, but I'm used to that, since I have short arms. However, my hands will stay dryer under these sleeves, so I am not complaining. The hood snaps in place with easy to use snaps. The outer fabric has a nice feel to it. The lining is smooth and cool. I wish I could testify to the degree of rain protection the coat provides, but California's persistent sunshine won't let me test that feature. I am especially pleased with the jacket's classy style, which is figure flattering. I ordered the jacket in size small, which is my normal size. Lately, clothing items listed as size small seem to be anything but, and are usually too large for me. I appreciate Marmot's sticking to traditional sizing in this jacket. As you can tell, I am very happy with this purchase.
Date published: 2015-01-28
Rated

5

out of

5
by
Mountain Lady
from
VERY nice raincoat!
I did a lot of searching before ordering this coat. I did not want something heavy or lined, just a good quality raincoat. I was not disappointed. I have never been disappointed with Marmot. This coat fits me perfectly overall. the fabric is lightweight but sheds rain and snow perfectly. I ordered the red which is really more of a rusty red, very nice. Pockets are ample and nicely designed. Hood is easily removable. Yes, the coat is a bit pricey but worth it. Highly recommended!
Date published: 2015-12-09
Rated

5

out of

5
by
Jenn
from
Gorgeous jacket
This is a jacket that, like other reviewers said, is very lightweight and has technical features but truly looks great! It's lining does not contrast so when you have the collar open, it still looks good. The one thing I'd note is that I tried several colors and while the Deep Crimson is a very nice color, it's really a rust color rather than a true classic red. It's a great rust though, very in style this season - but the name and the way it looked online fooled me. I decided on the black for classic reasons, but the grey is a very nice, slightly heathered color.
Date published: 2015-11-01
Rated

5

out of

5
by
Annelouise
from
Perfect between seasons coat!
Great length, true to size. Hood is a handy feature.
Date published: 2014-10-07
Rated

5

out of

5
by
Esmerelda
from
Love it!
I wanted to buy a tech jacket for travelling that doesn't look like I've just climbed off a mountain but would let me climb a mountain if I needed too. This jacket looks good is a great length. I bought the silver grey which has a lovely sheen and is not black. Great styling can't wait to get out in it.
Date published: 2015-03-14
Rated

4

out of

5
by
Miamoo
from
Solid, Stylish raincoat
Pros: I love the red color, the pockets are roomy, it's keeping me dry, and I like the hood tighteners. This is the best option I could find for a work-friendly raincoat that works in the Seattle rain. Cons: It is tight on my hips, I like to put my hands in my pockets when I walk and they aren't the right angle for that, and I wish it was a bit longer to keep my knees dry.
Date published: 2016-01-13
Rated

5

out of

5
by
Professional Traveler
from
Quality Jacket
Very well made jacket. Definitely runs small. I'm a size 6. The jacket was tight thru the shoulders. I would not be able to put a sweater under it. Am sending it back for a medium. Also, it took 13 days for jacket to arrive. Saw Fed Ex routing - it went to Ohio then Maryland and Oklahoma then California. It was shipped for Nevada. Well traveled jacket!!
Date published: 2015-10-22
Rated

3

out of

5
by
HatC
from
whitehall jacket
The design of this jacket is great, I quite loved it. BUT the model picture looked like the longer jacket I was looking for and the actual product was no longer than my other Marmot jacket so I am returning it. I would not recommend this jacket as a 'trench coat' or longer jacket because it isn't. It's great if you want a short city jacket.
Date published: 2016-01-18