Limestone 6P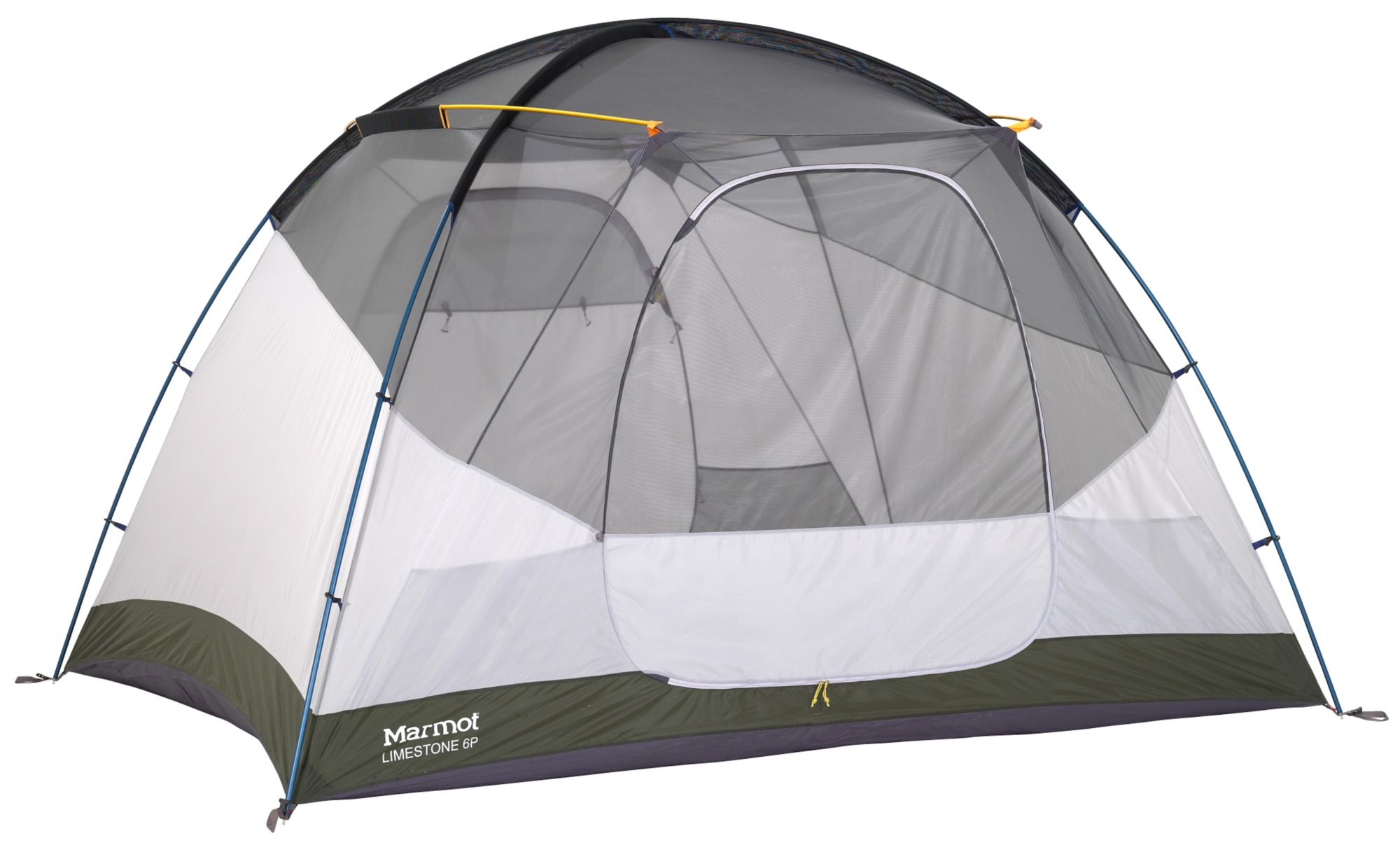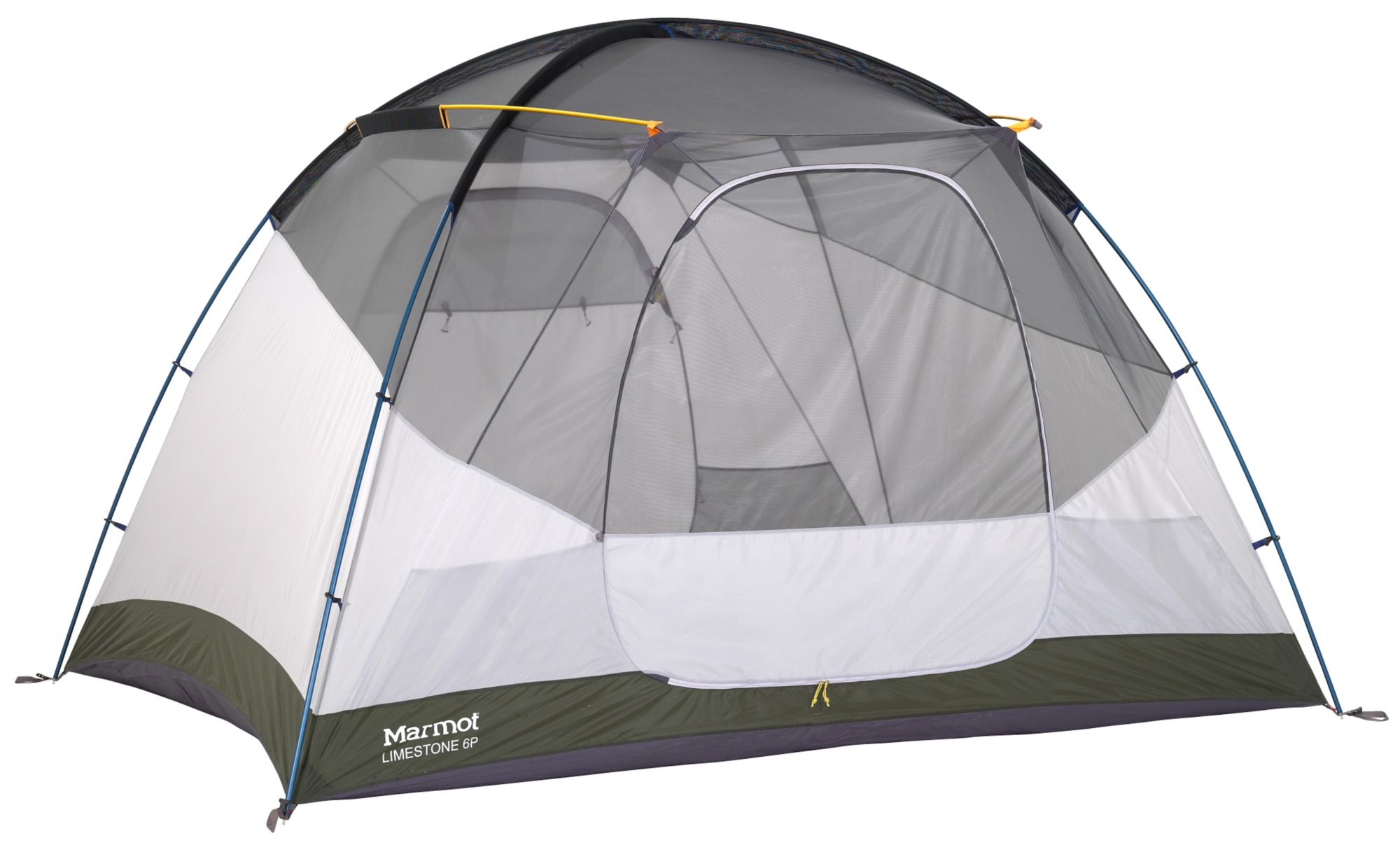 83 sq ft, 7.71 sq m
A castle and a keep for growing families on-the-go, this impressive structure sets up in minutes (thanks to the color-coded 'Easy Pitch' clips and poles) and creates a roomy and inviting space to crash-out after a long day at play. Two generous D-shaped doors prevent juvenile logjams, while the dual vestibules keep your odds and ends in good order. A seam-taped catenary cut floor makes the most of the interior space, while the seam-taped full coverage fly with vents keeps you dry and comfortable.
Free Doormat Included!
Features
DAC DA17 Poles
Door Mat Included
Full Coverage Fly
Heavyweight Oxford 150 Denier Floor
One D Shaped Door, One Vestibule
Fully Taped Fly and Canopy Floor
Multiple Fly Vents for Moisture Dissipation
Reflective Guy Out Points
Stuff Sack Size
28 x 10in | 71 x 26cm
Tent Floor Fabric
150d 100% Nylon Oxford, 3000mm, W/R, F/R
Tent Canopy Fabric
40d 100% Polyester No-See-Um Mesh F/R | 70d 100% Polyester Taffeta F/R
Tent Fly Fabric
68d 100% Polyester Ripstop 1800mm, W/R, F/R
Tent Vestibule Area(s)
26.27 sq ft, 2.32 sq m | 20 sq ft, 1.86 sq m
Tent Floor Area
83 sq ft, 7.71 sq m
Tent Dimensions
76 x 100 x 120in, 193 x 254 x 305cm
Tent Pole Data
4 / DAC DA17 14.5mm/12mm
Tent Min Weight (Poles, Body, Fly)
15lbs 5oz (7400g)
Tent Max Weight
17lbs 13oz (8080g)
Tent Packed Size (In Stuff Sack)
28 x 10in (71 x 26cm)
Style Number
27830
Rated

5

out of

5
by
FirstTimeCamper
from
First timer - high quality - goes together easy
First time campers...my son and I put it together with no problem in about 20 minutes including the rain fly. Build quality looks great. Materials are high quality. Color coding made it easy. Plenty of floor space and head room. Nice design and looks easy to use. Will add another review after camping with it at the State Park. Only area where there may be room for improvement would be packing instructions or a larger compression sack to stuff it back into. Maybe just because we are first timers, but it's quite difficult to get it back together as nicely as it came packed. Overall, I'd buy it again and recommend to others.
Date published: 2014-07-03
Rated

4

out of

5
by
John_NC
from
Great tent for a family
Two uses so far in 2014. Most recent was in A downpour... performance was flawless. Rainfly works very well. Tent gets very hot / muggy in NC summer without a fan, so bring one if you expect rain. Must have is the cut to size underlay from Marmot - a bit too expensive at $80, but you really do need it. It isn't included and if you don't know, you won't find out until you camp the first time. I agree with other comments about the size of the bag... need to butter the sides of the tent to get it in and Marmot says the butter isn't good for the waterproofing. Overall, great tent for our family.
Date published: 2014-09-07
Rated

5

out of

5
by
Thomas
from
Bomb Shelter
I have had this tent since 2012. In the last 40 years I have had many tents, none as well designed or as well made as the Limestone 6P. I have never been in a very heavy rain with the Limestone, but I have been in a constant rain for three days in the high 30s and stayed warm and bone dry. I saw a comment about the poles bending. They are pre curved which may account for that comment. As for the stuff sack, why is that an issue. Just get a duffle bag to carry it in. You need more room when it is wet anyway. The tent is very roomy compared to other tents I have with a similar foot print due to the upright walls formed by the extra top poles. The two vestibules add a LOT of extra room. This is a great tent, if you buy it you will not regret it.
Date published: 2015-02-12
Rated

5

out of

5
by
gerg
from
Love this tent!
Got this tent in July 2015 for the additional space and height so my wife and our dog would have more room than the Limelight 4P we'fe been using has. I use the 4P on solo trips. We can stand up in this tent. Easy to set up by myself. i'm just under 6 ft tall. Rainfly is a bit tough for one person. Have used this in hard rain, wind and mellow conditions. Great tent and great value.
Date published: 2016-07-21
Rated

5

out of

5
by
TomC
from
Awesome Tent!
I replaced a well recognized brand tent with the Limestone 6 with my son's recommendation. (He has the Halo 6) Used it twice in 30 days and admire the quality and features. We received 1/2 inch of rain in about 4 hours one day and all my gear stayed dry inside. The fly is outstanding...does what a tent fly should do...cover the tent!
Date published: 2014-05-19
Rated

5

out of

5
by
Jquizzle324
from
Excellent Tent
My husband and I bought this in May of 2015 and ended up camping 10 times through the end of October. This tent was amazing. I have not tried to set it up by myself, but it's maybe 5 minutes with the two of us. Very easy and quick to put up. There is so much room in the 6 person limestone. We have a queen size air mattress, sleeping bags, a duffel bag, and the dog bed and bag. There is plenty of walking and standing room. The rain fly is great. It comes almost all the way down to the ground on every side for superior wind and rain protection. There is enough room in the vestibules on both sides that I can put my travel toilet (5 gal bucket) inside and still plenty of room for shoes and entry/exit activities. The double doors are very helpful to keeping dirt out of the tent. My husband can keep his muddy shoes in his own vestibule. I do wish I could buy another doormat for the second door, we just have to use a tarp for the time being. The rainfly is a bit of a pain to fold to put away because it's an odd shape (sort of like folding a fitted sheet...) The poles are strong and durable. the material of the tent is quality and we have never had leaks. We do use a tarp underneath as a footprint but be sure the footprint is smaller than the tent floor so water doesn't build up in between. If you are considering a 6p tent (for whatever reason), get this one for sure. There is plenty of room for an expanding family or all our gear.
Date published: 2016-01-08
Rated

5

out of

5
by
mooseandbear
from
sturdy construction
We bought this tent two years ago after lengthy research. This one was the one we thought would suit our needs. Last Labor day we got caught in the worst wind storm I have been associated with when camping. The tent withstood all mother nature could throw at it. We are extremely happy with this tent. Would highly recommend it.
Date published: 2015-02-07
Rated

4

out of

5
by
dn3275
from
Good Tent
Good tent. Easy to setup. Wish the tent bag was a little bigger as it is hard to pack as efficiently!
Date published: 2014-04-16