Limestone 4P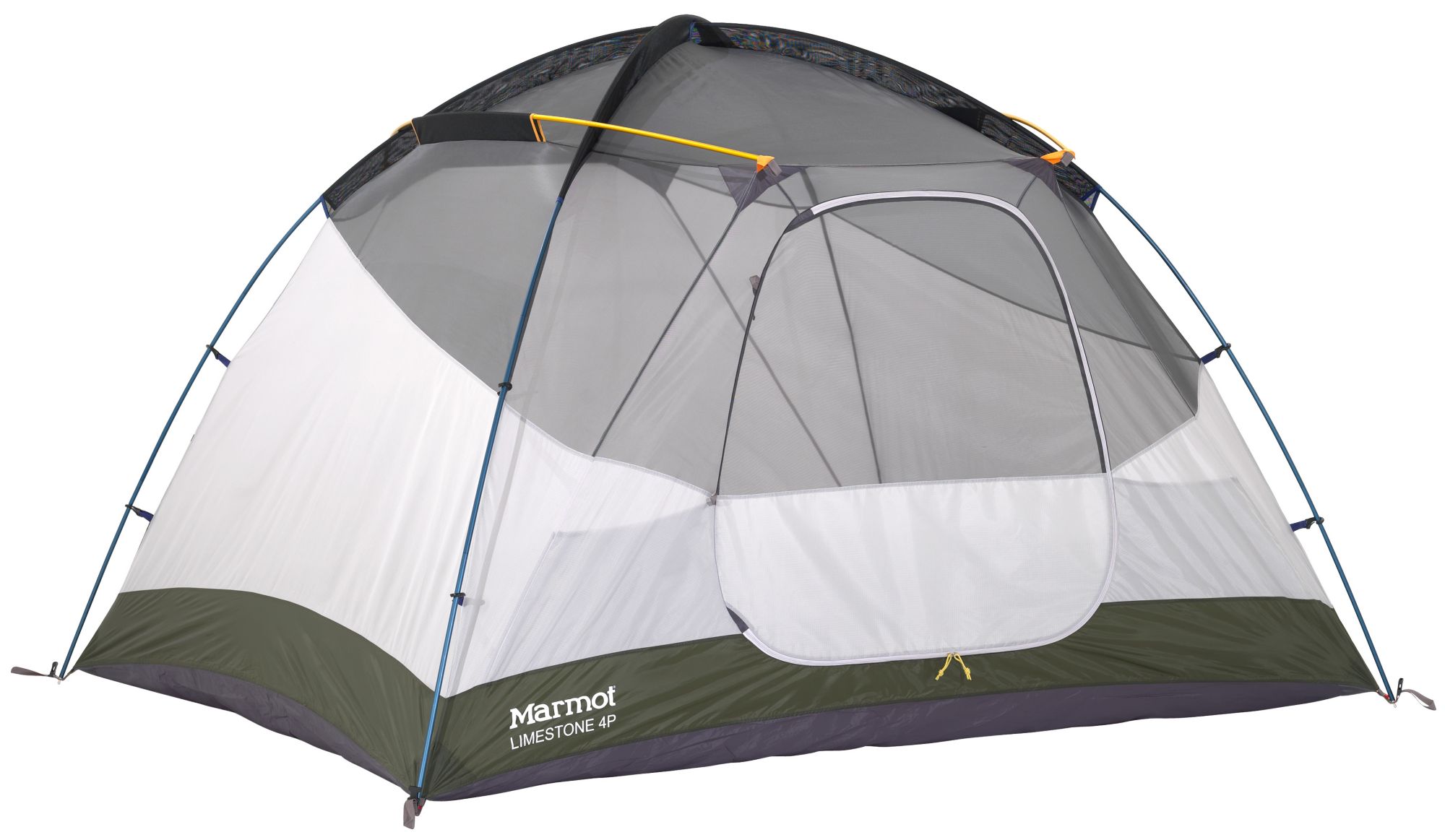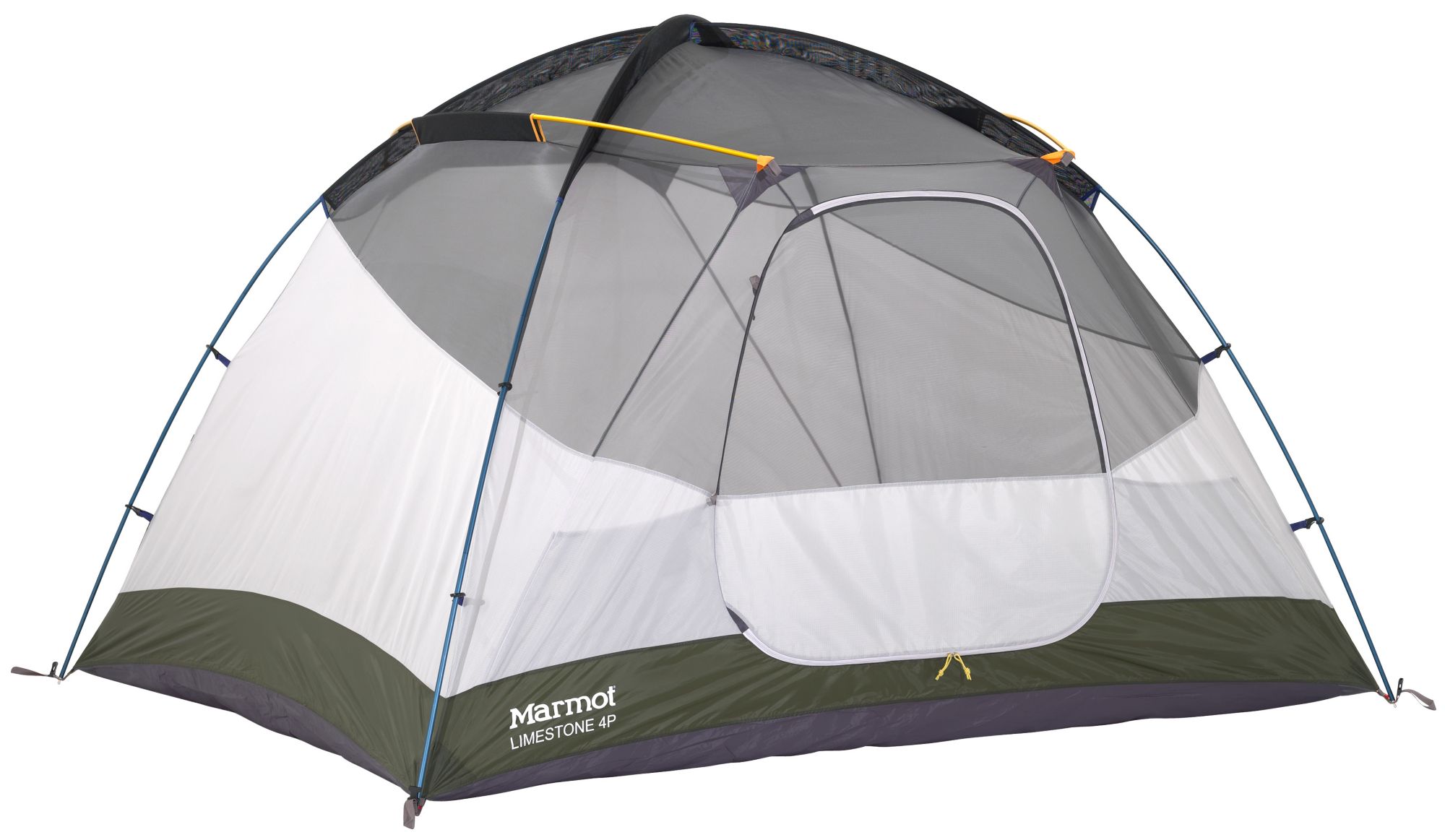 60 sq ft, 5.57 sq m
When comfort counts, turn to the Limestone 4P for a hassle-free outdoor living solution. The color coded 'Easy Pitch' clips and poles make setup a breeze, while the updated seam-taped catenary floor optimizes space and ventilation. Fabrics are weather-resistant, and the seam-taped full coverage fly (with vents) prevents muggy indoor conditions.
Features
One D Shaped Door, One Vestibule
Seam Taped Full Coverage Fly with Vents
Color Coded "Easy Pitch" Clips and Poles
Free-Standing Design
Seam Taped Catenary Cut Floor
Interior Pockets for Small Gear Organization
Pole Sleeve-Clip Combo
Light-Reflective Points
Jingle-Free Nylon Zipper Pulls
DAC DA17 Poles
Optional Footprint Available
Stuff Sack Size
27.5 x 10in | 70 x 26cm
Tent Floor Fabric
150d 100% Nylon Oxford, 3000mm, W/R, F/R
Tent Canopy Fabric
40d 100% Polyester No-See-Um Mesh F/R | 70d 100% Polyester Taffeta F/R
Tent Fly Fabric
68d 100% Polyester Ripstop 1800mm, W/R, F/R
Tent Vestibule Area(s)
21 sq ft, 1.95 sq m
Tent Floor Area
60 sq ft, 5.57 sq m
Tent Dimensions
61 x 86 x 100in | 156 x 218 x 254cm
Tent Pole Data
4 / DAC DA17 12mm
Tent Min Weight (Poles, Body, Fly)
10lbs 8oz (4763g)
Tent Max Weight
11lbs 12oz (5330g)
Tent Packed Size (In Stuff Sack)
27.5 x 10in (70 x 26cm)
Style Number
27800
Rated

5

out of

5
by
DanielJ
from
Awesome Tent!
This tent is rock solid! Very high quality. The poles are thick and strong. The fabric is very nice quality as well. The floor is thick on this tent which will add durability. The fly has adjustable straps which let you really tighten the fly down on the frame for a very taut pitch. This is my first Marmot product, and I would buy another Marmot tent tomorrow if I needed one. I know with proper care, this tent will last me for years. Thank you Marmot for taking pride in your materials and workmanship!
Date published: 2014-06-30
Rated

5

out of

5
by
Skip
from
Very happy with this tent.
I just finished a dry run on a set up for this tent. I couldn't be more pleased. I don't measure a tent by how quickly I can put it together but I have to say it went up quickly. The color coded poles and tab markings are great. I did take the time to read the instructions but you need to know it is very intuitive in the set up. The entry ground piece is a bonus and the vesti leaves plenty of room for hiking gear, boots etc. As with almost all 4 person tents the room would be cozy, but I do see it as possible for a short stay. Personally I like all the room I can get. I am 5'5" and standing in the tent was no problem. I was also able to set up a cot inside with extra rood. I will not be using this for backpacking. If you were to split up the weight for backpacking it would be very doable. I have not used it with bad weather but other reviews give it good marks for staying dry. The only negative, I feel, the footprint should be included in the price. Can't wait to use it this fall.
Date published: 2014-07-24
Rated

5

out of

5
by
RobS
from
amazing tent
I was camping at Bradley Pond in the Adirondacks with my young boys on their first backpacking trip. The tent site was flat but in a depression. A Thunderstorm hit and we wound up in the middle of 2 inches of water. We could see it flowing between our sleeping pads, but the tent stayed completely dry. Amazing tent.
Date published: 2014-08-07
Rated

5

out of

5
by
cynthia
from
Great Tent
We bought your tent Limelight 4 about a month ago and used it at a fire camp. It held up strong against winds and hard rain. We watched several other tents go flying by and become soaked but ours held its ground. The only thing I would suggest is make it taller so my husband can stand inside without having to purchase a 6 man tent. Yes I would recommend your product to anyone who does serious camping...thanks
Date published: 2015-09-12
Rated

3

out of

5
by
ardee
from
Pole problem
Bought this tent early spring; set it up twice at home; no problem. Liked the design, space, set up. etc. About 4 weeks ago started planning in ernest for an 8 day canoe trip and set the tent up at home and one of the blue poles experienced a permanent excessive bend. Took it back to REI and they swapped poles. Set it up immediately; no problem. Did last set before the trip up at home this am and now have another bent pole. REI is working on getting another good pole. Appears to be a material problem and both bends occurred where there is a slight designed /manufactured bend at a transition point. Have yet to use the tent in the woods and am keeping my fingers crossed that I don't have any more problems.
Date published: 2016-08-03
Rated

5

out of

5
by
Highlander
from
Solid Tent
Owned the the Limestone for 2 years now. The tent is well constructed. Always dry in the Florida rains and high winds Tent poles do bend with use. However, this does not affect the function and stability of the tent. The loops inside the tent allow for Eno lights to make a sanctuary.
Date published: 2015-11-22
Rated

1

out of

5
by
ardee2
from
Love the tent but not the poles
I love this tent. I love the size, shape, head room and ease of one person setup. See my earlier 3 star review that stated I had to replace 2 sets of poles before taking it into the field. Just returned from from an 8 day canoe trip and the 2 sets of long poles have got the same bending problem as before.
Date published: 2016-08-21
Rated

4

out of

5
by
Stem
from
Not yet
No chance for outdoor trip yet, but ready and willing. Dry run with 5 yr old and dog, living room camping went well. Easy set up, well constructed, plenty of room. Living in SE Alaska, it will get plenty of use
Date published: 2016-04-13