Limelight 3P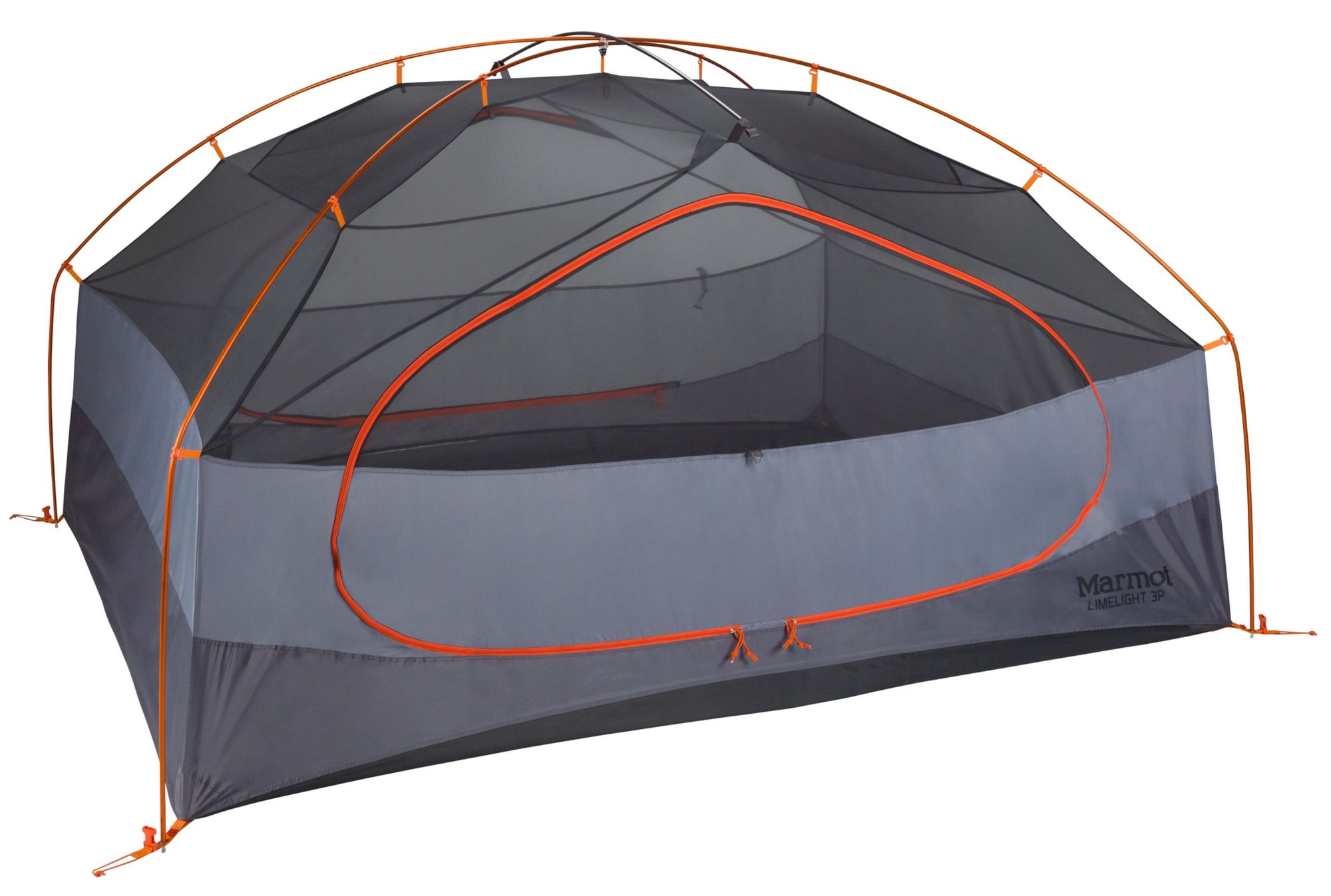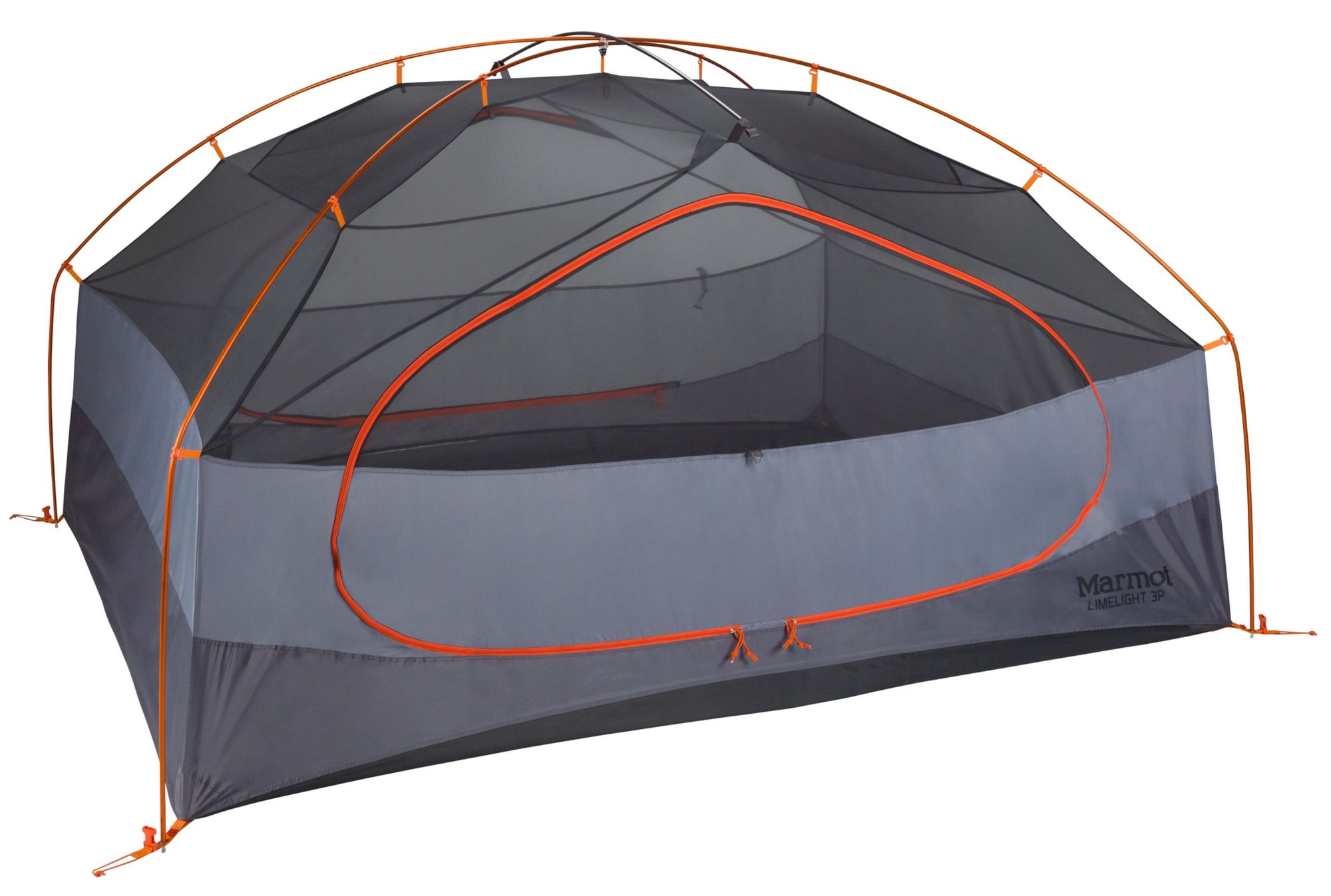 42.5 sq ft, 4 sq m
We embraced simplicity with the Limelight series: Quick to set-up and slight in weight, you can camp in style in this roomy home-away-from-home. The zone construction increases livable space, and a super-sized double door and rear D-shaped door lead to two side vestibules to keep all your gear dry in wet weather.
Features
Body Zone Pre-Bends Create Vertical Walls for a more spacious living area
One Super-Sized Double Door and Rear D Shaped Door with Two Vestibules
Lamp Shade Pocket Securely Holds Your Headlamp to Provide Ambient Light
Footprint Included
Strategic Clip Placement Provides Larger Interior Volume
Seam Taped Full Coverage Fly with Vents
Seam Taped Catenary Cut Floor
Color Coded "Easy Pitch" Clips and Poles
Interior Pockets for Small Gear Organization
Jingle-Free Nylon Zipper Pulls
DAC Press-Fit Poles Main Poles/Velocity Aluminum 7000 Ridge Pole
Weight
6lbs 11oz (2985g)
Tent Floor Fabric
68d Polyester Taffeta 190T 2000mm F/R
Tent Canopy Fabric
40d 100% Polyester No-See-Um Mesh F/R | 68d 100% Polyester Taffeta F/R
Tent Fly Fabric
68d Polyester Taffeta 190T 1500mm F/R
Tent Vestibule Area(s)
11.3 sq ft, 1.1 sq m | 7.5 sq ft, 0.70 sq m
Tent Floor Area
42.5 sq ft, 4 sq m
Tent Dimensions
48 x 68 x 90in, 122 x 173 x 229cm
Tent Pole Data
3 / DAC Press-Fit 9.0mm / Velocity 8.5mm
Tent Min Weight (Poles, Body, Fly)
6lbs 0.5oz (2730g)
Tent Max Weight
6lbs 11oz (2985g)
Style Number
27940
Rated

4

out of

5
by
the dude
from
Easy to set up (once I saw the You Tube video)
This appears to be a great tent. I have yet to use it but will in a few short weeks as my son and I are heading to Colorado, Grand Canyon and Carlsbad Caverns to do some camping with this tent.
Date published: 2016-07-13
Rated

5

out of

5
by
schu1988
from
Great tent!
We bought this tent for a road trip through Southern Utah and Northern Arizona. It was my first time major camping and the tent was extremely easy to set up and tear down. The tent held up well through a variety of weather. One night it down poured all night and we didn't get wet, but it did feel moist inside - I think that's just life when you're camping though. We also woke up to a frost covered tent one morning but still stayed warm. We are a couple that are both 6 feet or taller and this tent us fit us very well along with room for storage. We received a compliment at Zion that it was the best looking tent around and nothing else around could even compare. I really like this tent and would recommend to others!
Date published: 2016-05-25
Rated

5

out of

5
by
Langton087
from
Absolute quality product! Very happy
I have used this tent on at least half a dozen occasions for hiking/camping in southern Australia. I recently took it down to a very rugged, remote track in the South-west of Tasmania, well known for harsh weather conditions. This tent held up so well to some really ordinary weather conditions. One night we were forced to camp out in an unsheltered rocky flat that was subjected to high winds (50km/h+) and non-stop rain. This tent held up so well (not a drop of rain in it and the fly stayed on even though I forgot to velcro it to the poles!), I was incredibly proud of it and so happy with my purchase. I camped out 7 nights in the Tasmanian wilderness and would not think twice to recommend this tent to anyone, for the price as well this is a seriously great piece of kit! Well done guys! Very happy customer.
Date published: 2016-04-18
Rated

4

out of

5
by
Mahalo
from
New Limelight 3P
I had the older version of the Limelight 3P and recently got the new version. Although they share the same name, they are virtually entirely different. The initial set up brought by attention to a few things... PROS: - The new Limelight moved the mesh portion higher to address the issue with rain splashback on the older version. The old version was great but in heavy rain storms the splash back sometimes gets in at the ends of the tent because the mesh portion was very low, which give more mesh area for ventilation. (only in heavy and prolonged rainstorms) - Bend bottom portion of the tent poles provide increased usable space than the old version. - Comes with foot print - The fly now has a vent to help with addressing condensation, whereas the old version I had didn't have it. I used to wish the fly had a vent on my old Limelight when I camp in the winter. - Although roomier, the weight didn't differ much from the old version. CONS (or more accurately...THINGS THAT I AM NOT USED TO) : - The bend pole design that gives more usable space is nice, but packing up the tent poles is a little messier and slower. they don't stack/pack up tidy like straight poles of the old version. - the extra fabric at the clip attachments and the double hooked clips were great feature on the old version to help distribute stress on the tent's attachment points. This was eliminated in the new version. Marmot's engineers probably figure it's negligible difference? Cost saving? - New version doesn't come with a gear loft.... :( ....I loved my gear loft that came with the old version - The seemingly larger shape footprint (Shape of tent, not the actual footprint tarp provided) means I need a larger area to set up the tent, sometime that limits where the tent can be set up. With that said I don't have them set up up side by side, just initial impression when I set up the new tent. - The larger backdoor is back to the old versions design where (if open entirely) lies on the ground where it can be tripped on, or snag on while going in and out. This can be easily for me to get used to by either using the front door, or open the back door only to half way. I understand, its good to have options. - I wonder how it would perform in high wind with the more "Square" design. Time will tell. - Slightly different in material, probably not that important for the technical needs, and frequency I use the tent for. ( I bush camp 4 seasons and about 10 to 15 weekends a year) Hope this gives others some idea the difference of the older version and the new version. It all comes down to how you intend to use this tent and what you are used to. Nonetheless I love marmots gear, I had many adventures in the old Limelight for many years, and it was best tent I ever had, thats why I got another Marmot!
Date published: 2016-04-19
Rated

5

out of

5
by
backpackguy
from
fantastic
great product, love the added height of the sidewalls.
Date published: 2016-08-02