Kompressor Plus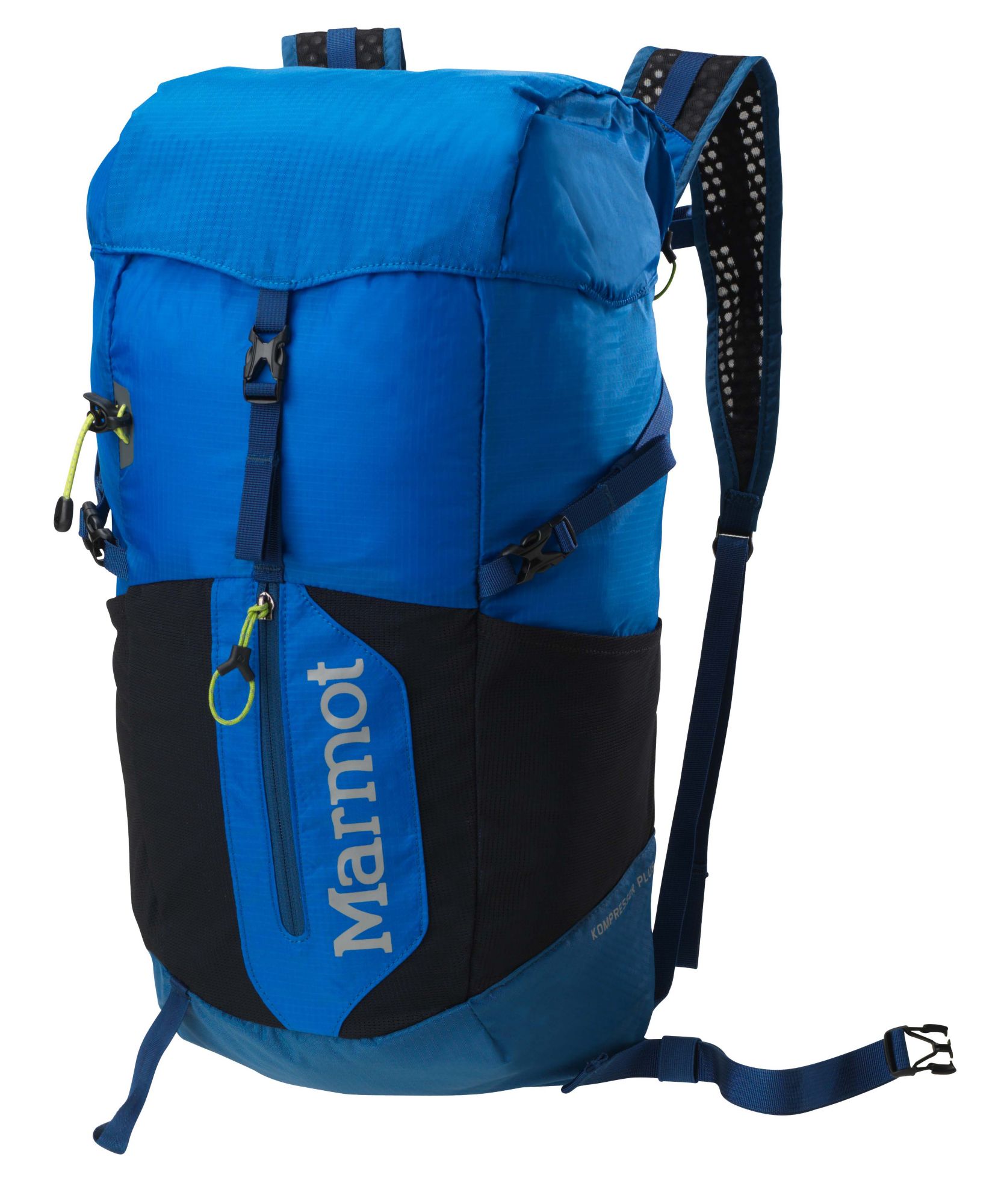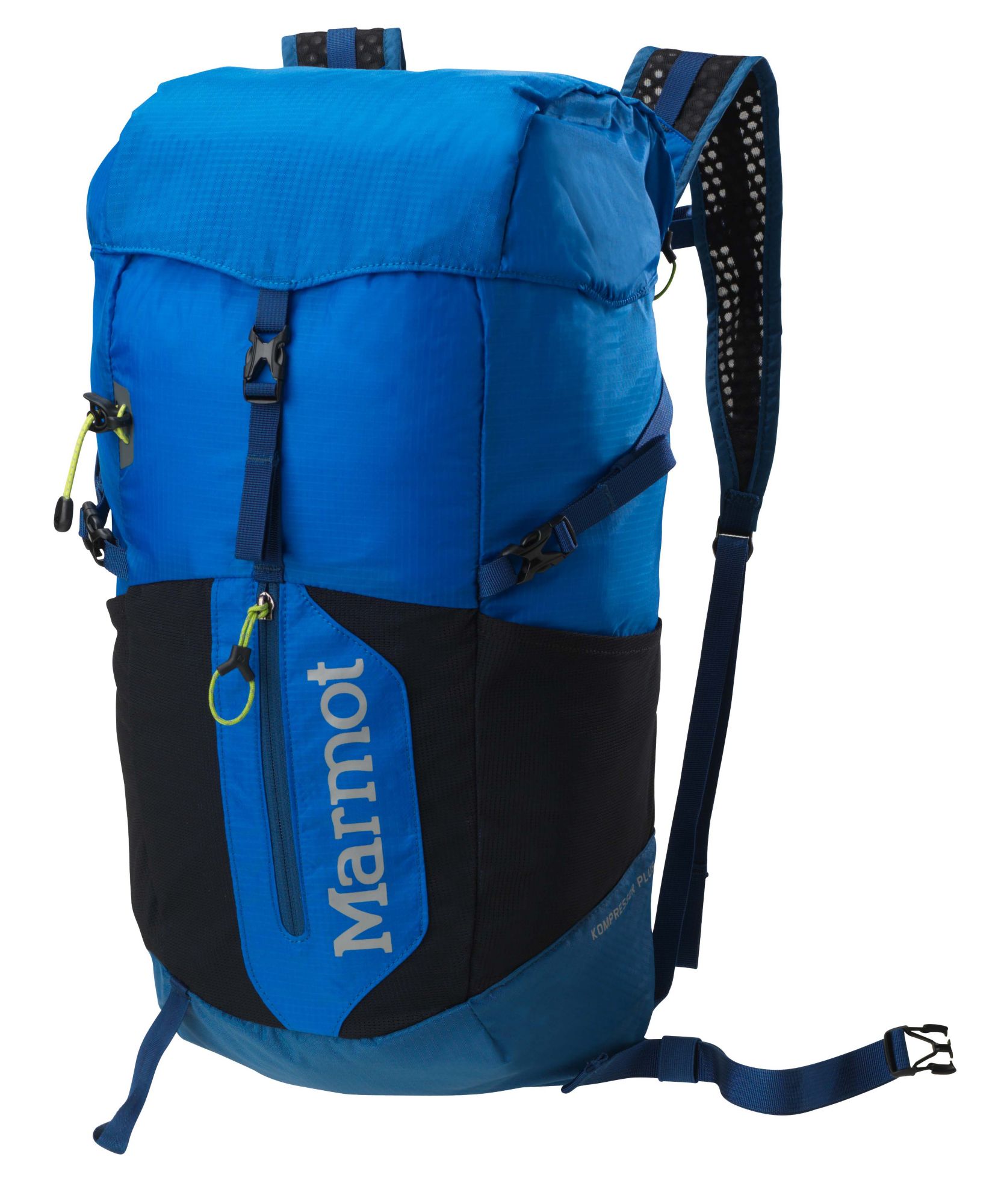 70d 210T 100% Nylon Ripstop
The ultralight Marmot Kompressor maximizes comfort and portability. Let's tally the perks: breathable airmesh back panel, ergonomically designed airmesh shoulder straps, sturdy yet lightweight fabrics, a roomy hood to store key items, and wrap-around compression to give you extra load-shrinking ability. Side bottle pockets allow you to easily store (and reach) your water.
Features
Perfect for Lightwieght Day Hiking
Pack Stuffs Into Lid
Hydration Port and Clip for Hanging Reservoir
Removable Closed-cell Foam Back Sheet
Tool/Trekking Pole Attachment
Airmesh Shoulder Straps
Airmesh Back Panel
Full Body, Lightweight Compression Straps
Daisy Chains
Sternum Strap
Durability Without the Weight
Highly Compressible
Main Materials
70d 210T 100% Nylon Ripstop
Lining Material
135d 100% Polyester
Reinforcement Material
210d 100% Nylon Double Ripstop
Weight
0lbs 13.05oz (370g)
Volume
1220ci » 20 liters
Torso Fit Range
16" to 20" | (41 to 51cm)
Style Number
24940
Rated

5

out of

5
by
ATHkr
from
For ultralighters this does the trick
The unique design and super-low weight drew me to this pack and after weighing options with competing day packs - I settled on it as a risk. But, I'm not disappointed since it does the trick. First outing was a simple day hike to get used to the minimalist style. Fits very well and rides just fine. Having no ventilation does make your back very wet with sweat; but that's a trade-off for the reduced weight. Subsequent outings with MB in Colorado and on the AT through the Smokies convinced me this is a great ultralight option. You will have to like the feel and adjust from your previous packs - but the weight savings are awesome. Best feature is that it stores in its own pocket for traveling or throwing in a larger backpack. Just take out the foam back support; roll it up; and everything packs up fine for travel. Storage is ample (although there are no internal pockets or hydration sleeves) and manufacturing quality is superb.
Date published: 2014-06-17
Rated

4

out of

5
by
ATHkr
from
Perfect Ultralight Option
I bought this pack for its weight and stowability - both of which are perfect. The best use is for people who want a minimalist, super-lightweight day pack that fits very well into a backpack or carry-on luggage. I've worn it several times and the fit is very good and comfortable. Even with the minimalist shoulder & hip straps - it never rubs or feels too little. The volume is perfect for the 10 essentials. My only issue is that with no ventilation between the pack and my back - there is considerable moisture build-up (my back was soaked). However, not using the chest or hip straps mitigated that issue somewhat. Overall - I'm very satisfied with the quality and functionality of this ultralight daypack.
Date published: 2014-05-06
Rated

3

out of

5
by
Lopez
from
A very good pack just short of great.
I needed a light-weight, compressible pack that was big enough to carry clothes, sleeping supplies, sundries etc for a trip through Cuba. This pack excelled except when carrying small but heavy-ish loads. Since it lacks any internal structure and only has compression straps located at the middle of the pack, it is difficult to cinch tightly when carrying just water bottles and books. So to get the best usage from this product I used dry sacks to help control the distribution of weight and increase organization. Some suggestions for next years model: 1. Use the same mesh material from the straps on the back to help increase airflow. 2. Corrugate the pad and reduce the size of the envelope where the pad is housed to give more shape while keeping the weight down. 3. Add an extra, lower compression strap.
Date published: 2013-12-02
Rated

5

out of

5
by
DanaH
from
Lighweight and high performing!
I needed a lightweight day pack to take with on a trip to Asia - something that wouldn't take up a ton of space and could get rolled up into my larger bag for short day trips. The Kompressor Plus was perfect! Meshy straps meant no sweaty shoulders/armpits in humid, 100 degree weather. The bag held a DSLR, jacket, a Nalgene (sometimes 2) snacks, and maps perfectly. Top pocket and the front pocket were perfect for smaller items. Used the bag on the trail, in the city, and even on a kayak off the coast of Thailand. Nailed it, Marmot! I love this bag.
Date published: 2016-02-26
Rated

5

out of

5
by
Carlos
from
Very practical !
This is the second Marmot Kompressor I have. The first one I have it to my daughter who felt in love with it when I showed it to her. It is the most practical backpack I have ever had. I mostly use it for motorcycling since I can stuff inside the personal things I need when camping, and it uses no room at all. The rest of my camping gear goes into my bike huge panniers. But do not get confused, this little backpack can also swallow a lot of stuff since it is an open bag with no compartments, but little pockets outside. When not in use, or with little stuff it uses no room at all.
Date published: 2015-10-15
Rated

5

out of

5
by
swagner2
from
Best in class performance
I got this pack after looking at everything I could find. Great value. Plenty of room. The outside pockets are located in a great easy to reach areas. The cinches really allow you to compress your gear. Use it daily. Backcountry skiing as well. Very pleased with this pack. I would recommend it to anyone.
Date published: 2014-01-16
Rated

5

out of

5
by
Golden80401
from
Lightweight and right size
I bought this day pack for myself and then bought a second one for my daughter. This is the roomiest, most lightweight pack with two side pockets for water bottles. Great day pack to pack into your backpack. But more than that, great size and weight day pack to carry on an all-day hike with food and extra clothes.
Date published: 2015-05-04
Rated

4

out of

5
by
Happy 2
from
Works for me !
I've been looking for some kind of a bag to carry my stuff in.. when I go riding on my trail bike.. you know, like a clear helmet shield, rain gear, water, camera, and a coat and such. With all those compression straps and other attachments it worked great just strapped down behind the seat on top of the tool kit. It saved me a couple three hundred bucks.
Date published: 2015-06-03