Halo 6P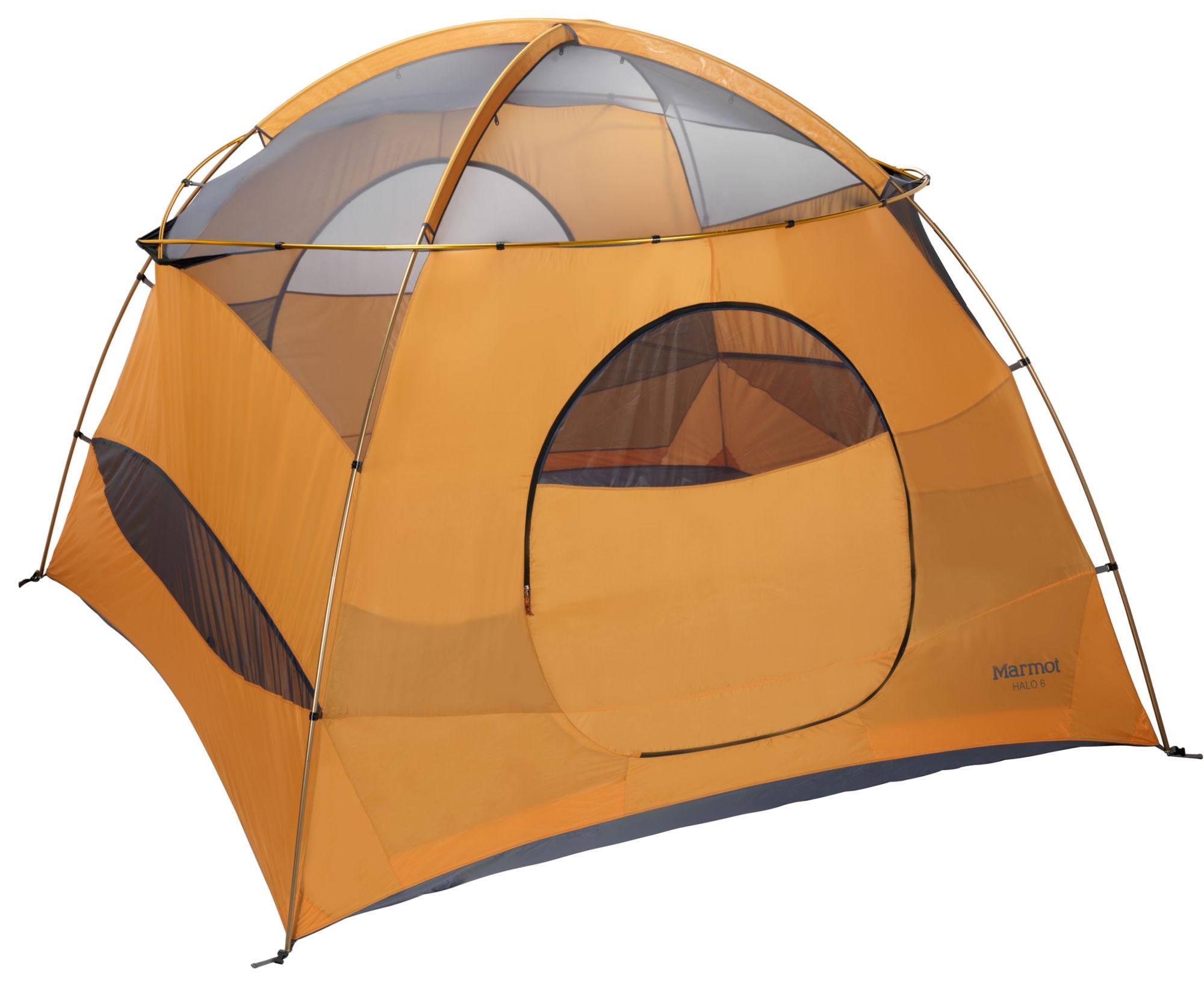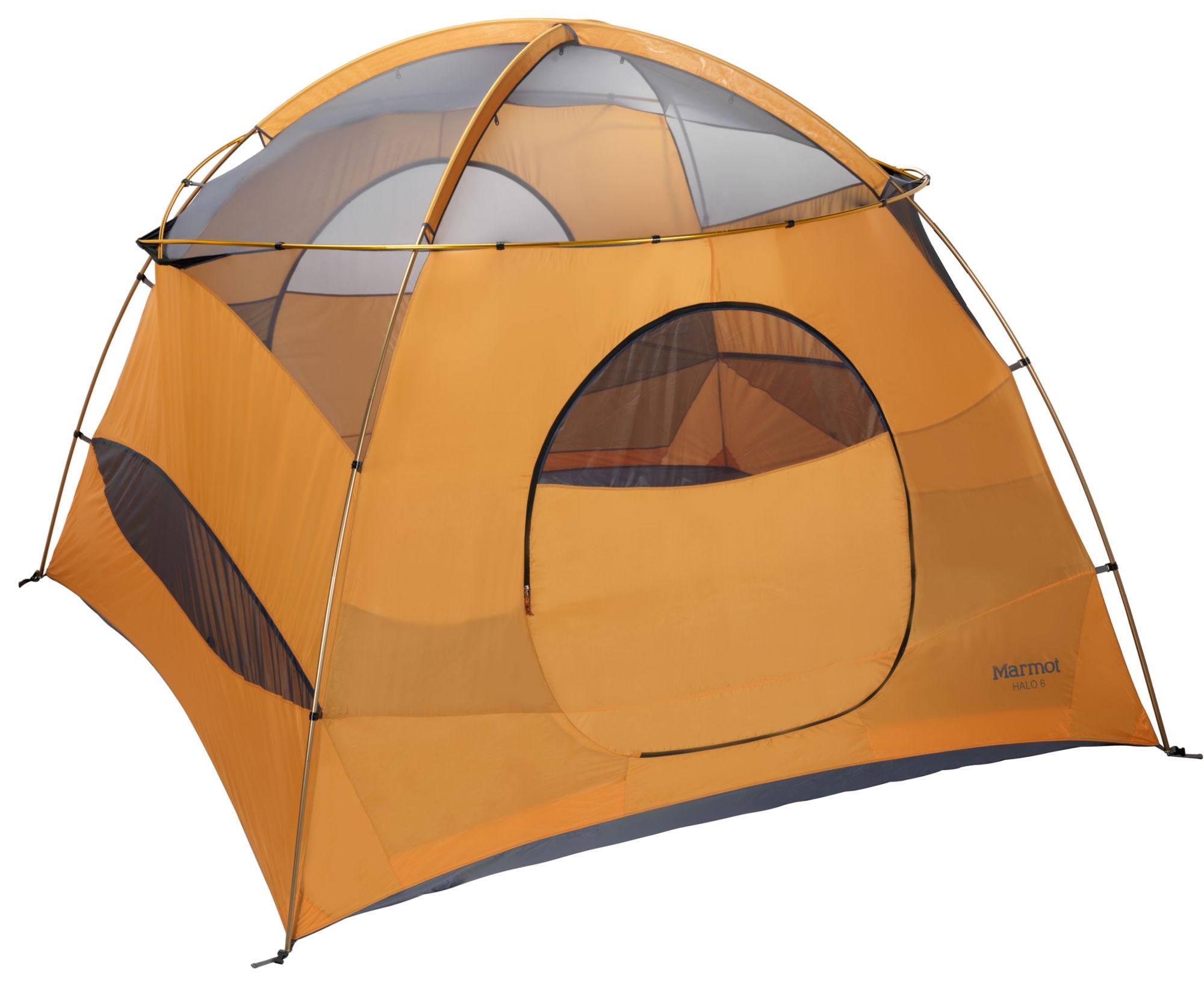 100 sq ft, 9.3 sq m
When you really need space and head room, the Halo 6P delivers. The innovative Halo pole structure creates spacious outdoor living, while the two D-Shaped doors and vestibules give you plenty of traffic paths for the crew.
Features
Two D Shaped Doors / Two Vestibules
Zip Open / Close Canopy Panels
Seam Taped Full Coverage Fly with Vents
Color Coded "Easy Pitch" Clips and Poles
Free-Standing Design
Seam Taped Catenary Cut Floor
Interior Pockets for Small Gear Organization
Pole Sleeve-Clip Combo
Light-Reflective Points
Jingle-Free Nylon Zipper Pulls
DAC DA17 Poles
Optional Footprint Available
Stuff Sack Size
25 x 14in | 64 x 36cm
Tent Floor Fabric
70d 100% Nylon PU 3000mm W/R, F/R
Tent Canopy Fabric
68d 100% Polyester Ripstop,F/R | 40d 100% Polyester No-See-Um Mesh F/R
Tent Fly Fabric
68d 100% Polyester Ripstop 1800mm, W/R, F/R
Tent Vestibule Area(s)
32 sq ft, 3.0 sq m | 32 sq ft, 3.0 sq m
Tent Floor Area
100 sq ft, 9.3 sq m
Tent Dimensions
81 x 120 x 120in, 206 x 305 x 305cm
Tent Pole Data
4 / DAC DA17 12mm
Tent Min Weight (Poles, Body, Fly)
18lbs 15oz (8590g)
Tent Max Weight
19lbs 7oz (8820g)
Tent Packed Size (In Stuff Sack)
25 x 14in (64 x 36cm)
Style Number
2723
Rated

5

out of

5
by
Cacalou
from
Just what I was looking for!!
My backpacking friends think it's ridiculously big; but I'm a car camper, not a backpacker. I'm a 6 foot tall car camper and was tired of getting dressed sitting down. The halo design truly does allow for me to comfortably stand up in the tent - not just the middle!! The quality is top-notch!! The zippers work beautifully and no catching at all!! Simple set up - but it is big so it helps to have tall folk setting it up, especially the rain tarp. The poles are excellent quality and the halo poles are already curved to ensure the rounded clearance. We used it this past weekend for the first time!! We were so excited and not at all disappointed with anything!! Strung a set of solar lights inside for ambiance and from the outside at night it glowed like a jack-o-lantern!!! Loved that!! I always say "You get what you pay for" and indeed that's true for the Halo6; more than I had ever spent on a tent, but 100% happy with the decision and the tent. I look forward to years of comfortable camping in my Heavenly Halo (that's the name we have her this weekend)!
Date published: 2016-06-22
Rated

4

out of

5
by
Sarahannb25
from
Pretty cool addition for car camping!
I did a lot of research on tents before purchasing the Halo 6. We went on our first trip with it this last weekend and it held up great! Very spacious and easy to set up :) The bf is 6'2 and he can stand up without hitting his head. The fly could be a bit better designed, it was very cumbersome for one person to get it over the tent, and if you have both vestibules staked out, the wind flows right through it and keeps the tent too chilly. I resolved this by unstaking one of the vestibules. Plus side was, the only space we found to camp was next to a vault toilet (yuck) the fly acted as a barricade and kept most of the smell away!! LOL
Date published: 2016-06-15
Rated

5

out of

5
by
gremlin
from
spacious, strong, durable fabric
we used this tent on a three month trip from Cooktown to Sydney in pretty much every weather condition tropical to cold. Very easy to put up ( not more than 5 min ) after practice, even in strong winds and rain. First night at Wonga Beach we had a storm with 60mph winds, one aluminum pole was bend. It convinced us to take it to Namibia ( 6 Weeks ) and back to Western Australia ( 12 months ). WA has a rough climate and high UV radiation. After 11 months the zippers didn't close all the way, in the last week it fell apart in a storm. The Fabric had become weather beaten. Until then we had our big orange tent 16 1/2 months put up every day. What else can you wish for. It was our home !!! We bought a new one just in case...
Date published: 2014-05-24
Rated

5

out of

5
by
pt207
from
Great service
I have been a tent camper for more than 40 years and the Halo 6P is one of the best tents I have used. For family camping this is a spacious tent that goes up quickly and easily. I am based in Australia and the Halo has survived 7 years of hot sun and heavy downpours. The poles and inner tent are fine and the flysheet is still waterproof but the zips are suffering; they get stuck and fail to zip up. What is amazing is that after I queried buying a new flysheet, Marmot and Allsports Distributors NZ have replaced the flysheet for free. That is outstanding customer service.
Date published: 2014-11-25
Rated

4

out of

5
by
Colorado camper
from
Great Tent except.....
Bought this tent as my new home base for camping in the Rockies. Set up is easy as long as your not doing it by yourself. The poles are under so much stress that its hard to accomplish by myself. The tent is bomber once set up with stands hard rains and wind like a champ. But after a week of rainy weather my wife and i concluded that the rain fly is extremely hard to deal with. As all campers know not to touch the inside of a rain fly when wet you are forced to when you want to zip up or down from inside the tent. You have to get down on your knees and bend down to ground to get the zipper down or up. There is only one zipper which goes to the bottom of tent when closed and in the up position when open.
Date published: 2015-11-19
Rated

5

out of

5
by
Liljimmylv
from
Best big tent ever!
I just had to post a review because no one else has. If you want a large tent and aren't worried about packing size or weight (car camping), then this is the best choice IMO. I camp two weeks a year at motorcycle rallies mostly. I carry my gear in a small tow behind trailer my Harley pulls. I used to make do with back packing gear (2 person tent, thin matress, lite sleeping bag, etc.) all from my days of carrying everything on a pack on the back of a motorcycle. But when you finally get tired of dressing while laying down and doing basically everything laying down, you want a real tent with head room! At 6'2" tall, finding a tent I can stand in was not easy. This tent is huge, I can stand, hang wet clothes from the roof and basically do anything I want inside. It's huge! Lots of pocket storage and great, GREAT vestibules. Buy this tent if a big tent is what you need or want. Buy this tent!
Date published: 2014-03-16
Rated

1

out of

5
by
dhander1969
from
Expensive and not durable
Bought this tent after owning several multiple 2 and 3 person 3/4 season Marmot tents. I have owned this one for 4 years and the DAC poles are not rigid enough to handle the flex for the tent. Upon the first set up they became permanently bent. Not the end of the world but clearly this is something that QA would recognized. It appears that it wasn't significant enough to address. Now the rainfly appears to not be UV resistant as the sun has degraded a spot in the top of the tent to the point where it has completely faded and weekend the fabric to the point where it split under the tension. Calling warranty department, it's a $180 replacement. Doesn't seem right when it's a product failure. I
Date published: 2016-07-06
Rated

5

out of

5
by
WaterMark
from
Halo 6P tent is heavenly in the woods
Purchased this tent for car camping as its a bit too heavy and bulky. The Halo 6p tent sets up relatively easy and quick, preferably with two people. The four pole design with clips lends itself to easy of setup. I was hesitant at first with the orange color scheme, but much to our surprise the color lends itself to the airy feel of the tent, and allows light to filter in. Our dark green Marmot 3p backpacking tent is dark and feels small compared to the Halo, I hesitate to use it after enjoying the Halo so much! Once setup, the spaciousness of the tent is amazing, due to the halo design, a clear 6ft of headroom all around the inside of the tent. Standing headroom is a welcome addition after years of crawling around on ones knees. We use the tent for festivals and backcountry Jeep camping, its spacious design lends itself to being cool and airy. Like the double one vestibules, and the top and side vents for ventilation when the fly is on. The storage pockets on either end make staying organized easier. The 10'x10' footprint of the tent makes tent site selection easy. Purchased the gear loft and footprint, the gear loft is not recommended as the peak of the tent limits who and what can be stored in the gear loft, additionally, the gear loft prevents the hanging of a lantern or fan from the ridge eye. The footprint is just that, a footprint, for protection of the tent floor. The only downside to the Marmot Halo 6p is the stuff sack. I haven't figured how to fold the tent, fly, footprint and poles to enable all to fit in the stuff sack. A duffle style carry bag would make this task much easier. I did buy the Marmot Longhaul large duffle bag at the recommendation of a Marmot customer service representative. The shoulder straps on the duffle bag enable easier transport from car to campsite. This would be a great accessory for Marmot to market to compliment their 6p tents.
Date published: 2014-07-28